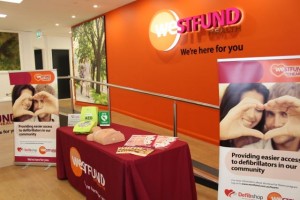 Your Defibshop is so excited to announce our awesome partnership with Westfund Health to bring to you the 'Here for Hearts' community defibrillator program. Launched recently at Bathurst, Maroochydore, Orange, Dubbo and Wollongong, the 'Here for Hearts' program provides access for community groups such as sporting clubs and schools to apply for assistance to purchase a defibrillator. The program is generously supported by Westfund Health who offer to match a  'dollar for dollar' contribution to the purchase of a fantastic complete defibrillator package – and it is genuine and a fair dinkum offer!
Co-funding packages have already been approved for a good number of applications, and they include the following organisations: Schools, AFL clubs, football & soccer clubs, regional car club and other community organisations – so do you know an organisation that could apply?
Defibshop Managing Director Carpet Hughes said "We are so privileged to be a part of the 'Here for Hearts' program alongside Westfund Health." With many entities out there appearing to offer 'grants' and 'support' for defibrillator purchases, Mr Hughes said "It is fantastic to be a part of a fair dinkum, no gimmicks, no shonky 'grants' or false promises program, with the Defibshop offering a complete defibrillator package along with the partnership and support of Westfund Health offering a genuine 'dollar for dollar' support to the community".
The partnership of Westfund Health and the Defibshop can only bring great benefits to the rural and regional communities of NSW and QLD. Both entities have a strong community focus and the 'Here for Hearts' program is one such example of just how a great partnership can offer genuine assistance to our communities.
The 'Hear for Hearts' program will be rolled out over the coming months at all Westfund Health branches in NSW and QLD. To find out more information and to complete an application form for your community group, click here "Here for Hearts"
Follow & like our Facebook pages below: