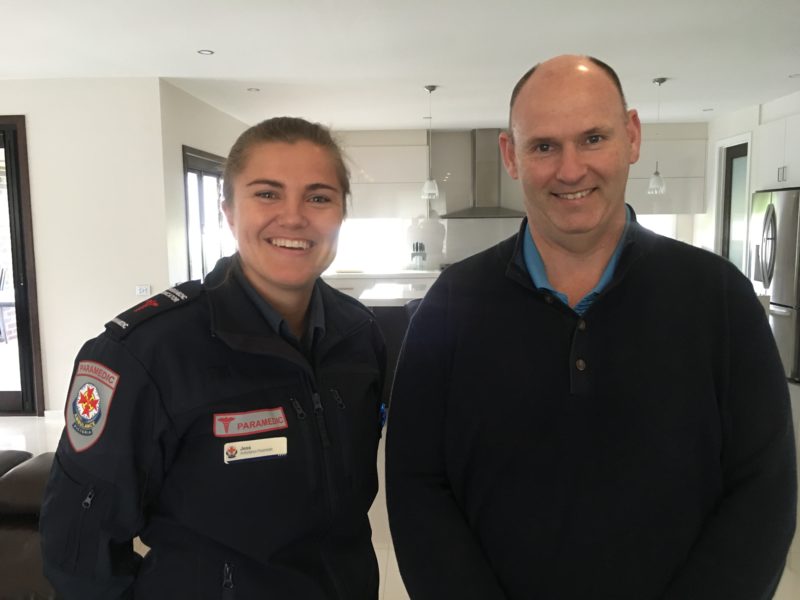 Paramedic Educator Jess Handley was fast asleep at home when the GoodSAM phone alert went off on her bedside table.
Wasting no time, she jumped in her car and followed the app's directions to a nearby cardiac arrest, 3.1km away – pyjamas and all.
Emergency physician Dr Andrew Crellin, 48, had gone to the bathroom in the middle of the night feeling unwell. Seconds later, he was in cardiac arrest. Wife Jodie called Triple Zero (000), while their 15-year old son Nicholas commenced CPR.
Little did the family know that their call to Triple Zero (000) also triggered an alert through Ambulance Victoria's new app, GoodSAM, asking nearby trusted responders to provide assistance while emergency services were on the way. Enter Jess.
Jodie noticed that Jess was in her pyjamas rather than a paramedic uniform and remembered thinking: "Wow, paramedics must be having a quiet night tonight."
Jess helped Nicholas move his dad out of the bathroom and into a larger area with better access. She helped Nicholas continue to provide CPR, until paramedics came through the door minutes later closely followed by a CFA crew.
Paramedics shocked Dr Crellin with a defibrillator as CFA firefighters continued chest compressions. Breathing again, Dr Crellin was treated at the scene by Mobile Intensive Care Ambulance (MICA) paramedics and transported to hospital.
As an emergency physician at Ballarat Health Services, Dr Crellin is usually on the other side of cardiac arrest cases. He says that he's excited about the potential of GoodSAM in terms of improving cardiac arrest outcomes for people in Ballarat and across Victoria.
"GoodSAM has the potential to have a very real impact in rural and regional areas, where emergency services have longer distances to travel. Knowing there are going to be trained responders within a few hundred metres of a cardiac arrest event is really reassuring," Dr Crellin said.
Jodie, a nurse at Ballarat Health Services, says awareness of GoodSAM among the health and medical community has increased since her family's experience and many of their colleagues have signed up to the app as responders.
Jess Handley also hopes to see many more emergency services and healthcare professionals join the app.
"GoodSAM is a great example of what early resuscitation and early hands can do. I'm a huge fan and can't wait to see the GoodSAM community grow. The more people on the app, the more lives we can save together."
After a month in hospital and rehab, Dr Crellin is back home and doing well, with plans to get back to work in the near future.
"Without everyone who came and helped, I wouldn't be here," he said.
Find out more about becoming a GoodSAM responder.
If you own a defibrillator, register it with Ambulance Victoria and it could save a life.
To see the article  click here!
Credited : Jun 14 2018 AED News – Ambulance Victoria (https://www.ambulance.vic.gov.au/an-angel-in-pyjamas/)