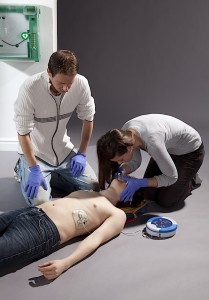 Sudden Cardiac Arrest (SCA) is the unexpected cessation of an organised heart beat, in other words the heart stops unexpectedly – anyone, anytime, anywhere. SCA is potentially reversible with a high likelihood of successful resuscitation if defibrillation and cardiopulmonary resuscitation is provided quickly. There are many causes including heart disease, blockage of a coronary artery ("heart attack"), an electrical problem in the hearts conduction system ("arrhythmia"), a lack of oxygen (for example severe asthma or drowning), electrocution and trauma.
When the heart stops suddenly, the victim rapidly becomes unresponsive ("unconscious"), has absent or gasping breathing and no signs of life (the victim does not move, does not respond, may appear blue, may appear to be 'fitting' and does not appear to be breathing normally). After about three minutes the brain and other organs begin to die. Without prompt treatment the victim is unlikely to survive.
Should you witness a Sudden Cardiac Arrest, you should begin first aid immediately, including applying a defibrillator and delivering life saving shocks to return the heart to a normal regular rhythm.
If this occurs, make sure you have also called for help – dial 000 and ask for ambulance to assist you. Look at our Tips for Calling an Ambulance.
Do you have any questions we can help you with? Call your Defibshop on 1300 729 575, or contact us here.
Defibshop – makes saving lives easy!
Australia's No: 1 Defibrillator Store!
Here the short video about how to run Sudden Cardiac Arrest event from us – The Defibshop…