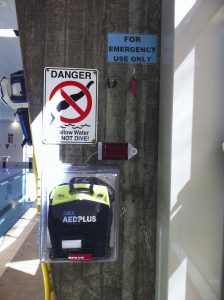 AED's –Where should they be located ready for use?
Defibrillators should be available in just about every location imaginable. We often have no idea that someone is about to be struck by Sudden Cardiac Arrest. A patient in Sudden Cardiac Arrest has the best chance of survival when defibrillation is delivered immediately. The longer it takes to defibrillate, the chance of survival decreases markedly.
Defibrillators should really be available anywhere where there are people! Think about where your defibrillator should be. Do you have access to a defibrillator if you needed to save a life? Defibrillators are similar to fire extinguishers – they can't be locked up in a cupboard. They need to be available when they are needed. Your Defibshop will discuss with you where you might locate your defibrillator. Our service to you is not simply supplying you a defibrillator, but full ongoing consultation and assistance to ensure your plans are best suited to your needs and requirements.
Think about the people you live with, work with and socialise with. You could easily put together a list of people you think might be candidates for a Sudden Cardiac Arrest  (SCA) – in fact, really, your list should cover all of us!
Here is a list from your Defibshop to get you thinking about where access to a defibrillator might be a great idea:
Aircraft
Airports
Auditoriums
Boats
Buses
Camping trips
Caravans & mobile homes
Child Care centres
Conferences
Farm homesteads and work sheds
Fishing boats
Gyms
Hiking trips
Home
Parties
Pools – public and private
Railway stations
Recreational camp grounds
Resorts
Rodeos
RSL, Leagues, Workers, Ex-servicemen's, Labor, Bowling Club or any other club where you might socialise
Rural and remote communities
Sailing events – eg: Sydney to Hobart
Sailing – inside & outside
Schools
Ships
Shopping Centre's
Ski fields
Sporting venues – for participants and also spectators
Surfing clubs & events
Swimming pools – private and public
Theatres
Trains
Travel vacations (caravan and camping)
Unit blocks – especially large complexes
Universities
Water events
Workplaces
Work vehicles
Yachts
And any other place where you have people and the chance of Sudden Cardiac Arrest! Your Defibshop can discuss your needs to suit the correct placement of your defibrillator(s). Call us now on 1300 729 575 to find out more information or click here to send us your details, and we'll call you to discuss and assist with your needs.
 Defibshop, …because seconds count!
Defibshop – makes saving lives easy!
Australia's No: 1 Defibrillator Store!