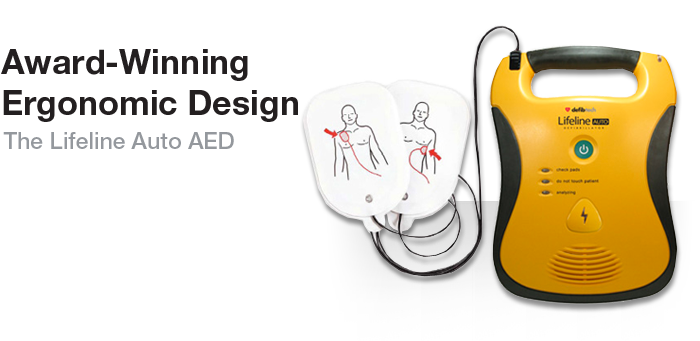 Defibtech Lifeline Semi-Automatic AED with 7-year Battery Package (6DCF-E130-SET)
The original award-winning Defibtech AED, the Lifeline Semi-Automatic, is easy to use with only two buttons and a long life 5-year battery. It also comes standard with an 8-year Warranty.
Simple to Use
Simple, clear and straightforward: there is only one button on the unit, a green button to turn the unit on. The Lifeline AED is simple and intuitive.
Clear Voice Prompts
In an emergency, stress runs high and even trained professionals can lose their place. The Lifeline AED ensures that never happens. Its clear, calm voice guides the user through the process, one step at a time, with simple, concise instructions. Easy-to-see progress lights provide a visual frame of reference to support verbal instructions.
Long Life Battery
 The 5-year battery will deliver 125 shocks or work continuously for 8 hours.
Designed for the real world
You never know the circumstances that will surround an emergency. That is why Defibtech designed the Lifeline AED to be ready to handle just about any situation. This lightweight device is prepared for anything, from the rubberized surfaces to provide a sure grip and oversized handle big enough for gloved hands to the fully integrated design devoid of confusing moving parts.
Active Status Indicator
Is the AED in complete working order? Thanks to the actively illuminated status light, you can have peace of mind from knowing it is always ready when needed.
Highly Visible
When you need an AED, seconds count. The Lifeline series of AEDs are designed with maximum visibility in mind, thanks to their apparent bright yellow colour. Locating the unit should never be an issue.
Award-Winning Ergonomic Design
Is this lifesaver a work of art? Industry experts seem to think so. The Lifeline AED has won numerous awards for design and innovation. It was even displayed at the Museum of Modern Art in New York City as an example of innovative design! Lightweight, portable and compact, the Lifeline is an example of ergonomics at its finest.
Training Companion
While anyone can use the Lifeline AED in an emergency, training is still advisable, and to that end, we present the Defibtech Trainer AED. The trainer is identical to the Lifeline AED except that all the rubberized surfaces are red rather than black, making it clear that this is a non-functioning training device. As a result, the user is training with a training device that truly feels like the real thing.
Rugged and Durable
Dust, water, shock and vibration may wreak havoc with other AEDs, but the Lifeline AED is manufactured to military standards to resist such things; jet aircraft and helicopters tested.
Easy to Upgrade
As protocols change over time, your unit can be upgraded in the field simply by inserting a data card.
Record and Transfer Data
Data from the unit is recorded and easily retrieved from the device using a data card.
Safe and Effective Life-Saving Technology
The Lifeline AED uses biphasic technology, a clinically proven waveform and algorithm to deliver shocks and save lives. This is one of the most widely used impedance-compensated waveforms, with extensive clinical experience and success in thousands of defibrillators worldwide. Evaluation in hundreds of publications has demonstrated this technology to be the safest and most effective for saving lives.
Corporate Focus and Commitment – the Defibtech Tradition of Excellence
With more than 125,000 units in the field globally, Defibtech is constantly moving forward, driving research and innovation to make saving lives more accessible and reliable. This commitment to producing the best AEDs medical technology can deliver has earned them accolades and respect in the industry.
All defibrillators (AEDs) the Defibshop sells are complete packages!
Yep, complete, so included as a minimum:
AED unit
Patient preparation kit
Adult pads
Battery
Users manual
Online education access
CPR laminated wall chart
A4 laminated AED here wall sign
AED stickers pack
DRSABCD Magnet
Our

Defib

HealthCheck tracks the unit's lifetime to ensure your AED is always ready to respond!
Additionally, you have access to our clinical support 24/7!
Please don't hesitate to contact us at 1300 729 575 or info@defibshop.com.au for further enquiry.
Defibshop – makes saving lives easy!
Australia's No: 1 Defibrillator Store!