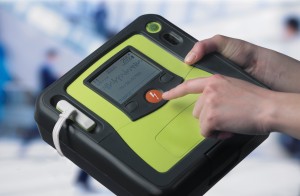 The AED Pro is an option for customers where the ability to see the underlying ECG is important or where infrequent monitoring of the ECG is required.
The AED Pro is a great choice where clinicians would consider using emergency medications for treating arrhythmias.
The AED Pro is a tough defibrillator with advanced rugged design.
Note: The above price is an indicative price guide only.
Pricing varies due to the final configuration chosen by the customer.
For instance choosing options such as
Rechargeable battery and charging bay
3 lead ECG cable
Different pad options
Will impact on the final price.
Please contact us on 1300 729 575 or email info@defibshop.com.au with the options you would like for a firm quote
Price is GST inclusive
Features
* Rugged construction and exceptional durability with resistance to dust and water jets (IP 55 rating)
* The only AED in the industry to withstand a 1.5-meter drop test
* Disposable or Rechargeable battery options
* Available as semi-automatic with manual override for ALS professionals
* Built-in 7-hour memory or USB memory technology
* Optional ECG monitoring with 3-lead cable and high-quality display
* Real CPR Help with instant feedback on the rate and depth of chest compressions during CPR through ZOLL's unique one-piece CPR D-padz® Electrode
* See-Thru CPR® on the AED Pro allows advanced life support providers the ability to see the patient's underlying intrinsic rhythm without stopping CPR
AED Pro Introduction video: