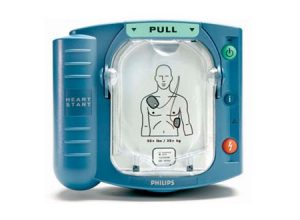 NOTE! All defibrillators (AEDs) sold by the Defibshop are sold as complete packages! Yep, complete, so included as a minimum: AED unit, patient preparation kit, adult pads, battery, users manual, online education access, CPR laminated wall chart, A4 laminated AED here wall sign, AED stickers pack, DRSABCD magnet and our Defib HealthCheck for the lifetime of the unit to assist you with making sure your AED is always ready to respond! Additionally, you have access to our clinical support 24/7!
Gives you the confidence in knowing that you can save a life even before help arrives. Designed for use by everyone, at any time, at any location.
The HeartStart First Aid is…
Fast to learn So simple to operate that a first aider with minimal training can potentially save the life of a co-worker, friend or member of the family or public.
Easy to use Calming natural voice instructions coach the first aider through the steps of first aid defibrillation and CPR.
Always ready Comprehensive automatic self-tests check all the HeartStart's vital functions on a daily, weekly and monthly schedule, so as to ensure that HeartStart is always ready for emergency life saving.
Voice coaching Helps the user take control with easy-to-follow instructions with a clear and confident voice.
Defibshop – makes saving lives easy!
Australia's No: 1 Defibrillator Store!